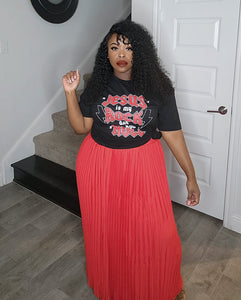 Red pleated maxi skirt.  Elastic waistband.  Shown worn with "Rock N Roll" tee, sold separately. 

Fit:   Flowing, loose fit, some stretch

Fabric:    95% Polyester, 5% Spandex

Model Stats:   
Height:  5'2
Size: Wearing 1X

Bra Size:  38DD 
Waist: 35in
Hip: 48in
Size Chart:  Please read our FIT description and use our standard size chart as an estimate to select the best size for your individual shape.  Feel free to contact us for size recommendations.
 

 XL          1X

 

         2X

 

        3X

 

        4X

Size

(14)

   (16)

 

(18)

(20)

 

(22)

(24)

 

(26)

(28)

Bust

38 in

   40 in

 

42 in

44 in

 

46 in

48 in

 

50 in

52 in

Waist

34 in

   36 in

 

38 in

40 in

 

42 in

44 in

 

46 in

48 in

Low Hip

44 in

   46 in

 

47 in

49 in

 

50 in

52 in

 

53 in

55 in